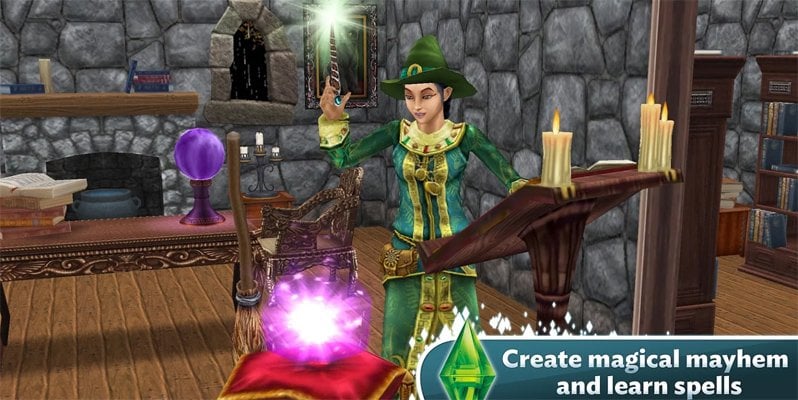 While your dreams of practicing witchcraft and wizardry might never come to fruition in real life, it doesn't mean you can't let it happen for your characters in The Sims. Electronic Arts has pushed an update for The Sims FreePlay that allows you to conjure spells, create potions, fly on broomsticks and have an or a dragon for a pet (sorry Daenerys Targaryen, but you're not the only one with dragons) just in time for Halloween.
In order to start turning other people into toads, you'll require a character that's at least level 8. The update does remind us of Hogwarts and Harry Potter at large. The update is available for free on Android and iOS. Unfortunately, like many other Halloween celebrations, Windows Phone users have been kept out of the party. Grab the update for the free game at the links below.
The Sims FreePlay – Play Store
Changelog for The Sims Freeplay:
• Discover a world of magic and charms in the Book of Spells Quest – construct Sorcerous Supplies to unlock it
• Conjure up mysterious collectibles in the new Spell Casting Hobby and unlock a gorgeous pet Owl
• Hatch your very own mythical pet Dragon! Handle with care, they are a little bit fiery
• Soar to the skies in the gravity-defying Broomstick Flying Hobby – complete the Spell Casting Hobby and wait until the witching hour on Halloween to unlock it!
• Enchant your friends with stylish new Wizard Costumes, perfect for your magical Sim
• Pick up all your mystical wares at Sorcerous Supplies; it's stocked full of crystal balls, cauldron fireplaces, and much more
• Find frightful new items every day leading up to Halloween – starts Oct 25!