WhatsApp has been unfair to Windows Phone users until now in the sense that the Windows Phone version has lagged behind the Android and iOS counterparts. Now, the app has been pulled from the Windows Phone Store altogether and is no longer available. A search on the Store pulls up an error message saying, "We couldn't find a match. Try a different spelling or search term."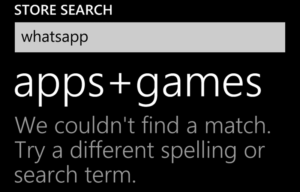 While the company hasn't given and exact reason for pulling the app, we suspect it's been done due to incompatibility with Windows Phone 8.1. The app has issues with the latest version of the OS and while other developers had already been hard at work updating their apps before the update was released, we haven't seen an update from WhatsApp on Windows Phone in ages.
While existing users shouldn't face any problem with the app's removal, it will be an issue for new users. WhatsApp hasn't given a timeline on when it expects to make the app available again. We just hope it doesn't take very long.