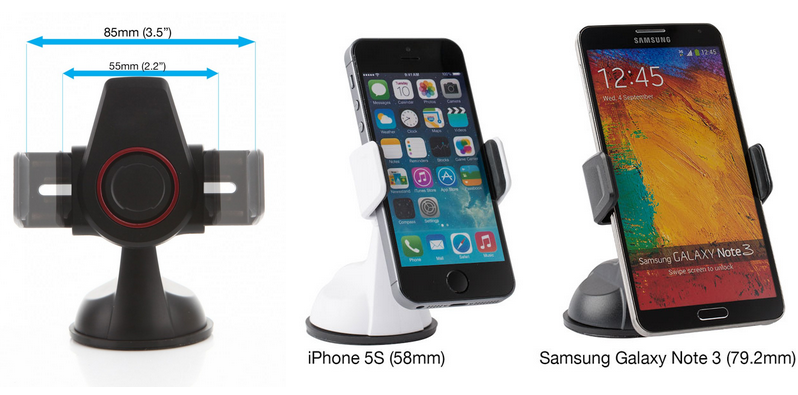 We constantly use our smartphones to call, chat, view movies, videos, surf the internet, stay connected to all those who matter. For all this usefulness, however, cell phones have also been responsible for numerous accidents. While it is a good practice to keep you phone on DND while driving, most of us do not follow this. For this very reason, manufacturers have come up with mounts and car holders that enable you to use your phone hands free.
While most mounts do the simple job of securing your phone at a fixed location in your car, if you are looking for a car mount that offers you an extra something, Osomount Push NFC car holder for smartphones is the answer. As the name suggests, this is for use with any smartphone, tablet or other device with NFC.
The device enables NFC support which can be extremely useful in today's smartphone/smart-car filled world. The product comes with the following defining features:
Universal car mount fits all mobile phones up to 3.5 inch (85mm) wide in a tight silicon grip

Patented suction cup allows mounting onto car dashboards, windscreen and any other flat surface

360 degree versatile joint allows multiple viewing angles

Comes with a 2 year warranty

Available in black and white
Just download the NFC tag app from the Play Store or App Store (only compatible with the iPhone 6 and the iPhone 6 Plus), tap the device onto the mount and do what you like. You can connect it to your vehicle over the Bluetooth and send messages on the go.
Osomount claims that the Push NFC has the 'world's quickest phone mounting mechanism' and most users agree with the claim. The only downside that some users might face is that the Osomount Push can't be made to do multiple things once the mobile phone and the car mount are connected to one another. Nevertheless, the mount is definitely a time saver and helps you concentrate on more important things while driving.