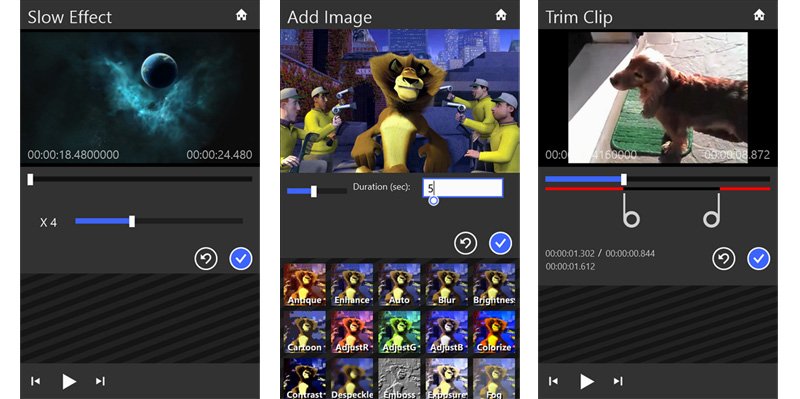 Video editing has been another of those features that until now, was unavailable on Windows Phone. Well, Windows Phone 8.1 enabled that feature and we already have an app available. Movie Maker 8.1 does all that and more. The app is universal, implying it can be purchased on Windows 8 or Windows Phone 8.1 and be used on the other one without paying the price.
Taking advantage of the new APIs in Windows Phone 8.1 (and it's exclusive for Windows Phone 8.1), Movie Maker 8.1 allows you to do plentiful with your videos, including cutting them, introducing slow motion effect in them, add images, soundtrack or more videos into them. Here's the full feature list:
Allows the user to compose a movie using all kinds of video, images and music files supported by Windows Phone 8.1
All the clips and tracks can be copied, moved, deleted, and duplicated (same for the audio tracks)
Volume can be controlled on single clips and tracks
When an image is added, you can set the duration on the movie and you can apply one of the awesome Nokia filters
"MP3 extractor" feature: a user can load a YouTube video previously downloaded, extract the soundtrack and use it as the movie background of exported
All the work is done by the app; no internet connection is required.
The final movie is saved as mp4 on a folder chosen by the user (SD card too).
Easily trim, crop and split clips
Set clip volume level
Copy, paste and delete clips at any position
Use simple playback controls to review clips
Zoom able real-time preview
Slow motion effect 10X
The app costs $1.49, but comes with a free trial. The developers (who were also behind Instagraph) have promised more features in the future, including hardware acceleration and transitions. You can pick the app here.
[SOurce]