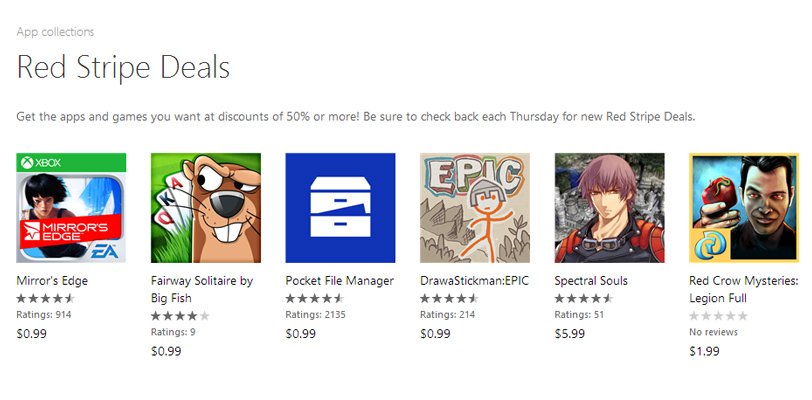 You know the drill. Every week six new apps get discounted by 50 percent on more on the Windows Phone Store. We'll get straight to the point. Here are this week's apps.
Run up walls, slide down ramps, ride zip lines, and hurdle between rooftops as you burn through 14 levels of increasing intensity. Think fast on your feet, engage in furious hand-to-hand combat, elude your enemies, and push yourself to the very edge.
Fairway Solitaire by Big Fish – $0.99
Big Fish is pleased to announce that Fairway Solitaire™ is back, and it's bigger and better than ever! The much-anticipated sequel and one of the most exciting and addictive card games available includes solitaire hands dealt on more than 350 hand-crafted golf holes, 4 mini games, 37 trophies, a golf shop, golf announcers, hazard cards, and one SERIOUSLY ticked off gopher!
Full access to Phone and SD Card. Now you can store any files in those locations and retrieve them by connecting to PC. Full featured FTP Server. Supports active and passive connections. Supports authentication. Downloader with resume and scheduler. Automatically detects YouTube URL and allows to download video file.
Draw a stickman, then guide him through a fantastic world of adventure! Using an assortment of pencils, draw elements, tools, and weapons to solve puzzles and overcome obstacles.
Draw a Stickman Epic could be compared to an adventure game, RPG, or puzzle game, but the unique drawing mechanic is unlike any game you've ever played before! From drawing a rain cloud for growing plants to drawing an axe for chopping down a gate, you control all aspects of your environment.
"Spectral Souls" the awaited full size Japanese Tactical RPG is available now for your Windows Phone 8 !!! Now with full support for MOGA controller.
Red Crow Mysteries: Legion Full – $1.99
Save mankind from a terrifying fate in this heart-pounding adventure! Your ability to see other worlds makes you the only person who can win the eternal battle between good and evil. Explore dark and eerie locations to find clues, search for special items and solve tricky puzzles. Pass the ultimate test to prove that you are the only one able to defeat the impending threat and preserve the world as we know it.