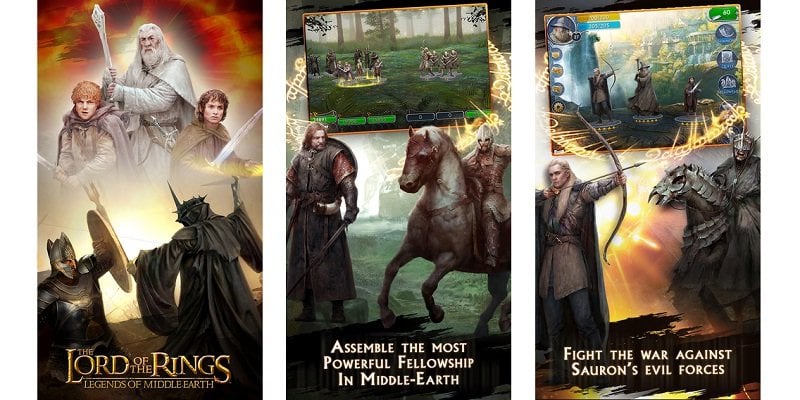 Being Tolkien fans ourselves, we understand if you can't get enough of The Lord of the Rings. Of course, there's the upcoming third movie in the Hobbit series and the newly released Shadow of Mordor on consoles, but there's always room for more. It is only good news then that a new new LoTR game has landed on the mobile platforms. Developed by Kabam, the game is called The Lord of the Rings: Legends.
Features:
SUMMON LEGENDARY HEROES FROM THE LORD OF THE RINGS UNIVERSE
• Recruit over 100 characters from The Lord of Rings Universe with special abilities in your quest to vanquish evil.
• Amass the most powerful fellowship in Middle-earth by enhancing and evolving your favorite heroes from The Lord of the Rings trilogy.
EXPERIENCE THE WORLD OF THE LORD OF THE RINGS TRILOGY
• Explore the 3D world of Eriador with other regions such as Rohan, Gondor, and Mordor coming in later expansion packs.
• Control up to three teams of different heroes and wage epic battles against the forces of evil.
The Lord of the Rings: Legends is a turn-based role-playing game that features over 100 characters from the Tolkien universe. Of course, having so many characters takes its toll on the limited resources and the game shows images of these characters instead of 3D or even 2D models. Although, it's not half as bad as you'd imagine. You get to explore different regions of Middle Earth and gain experience/treasures along the way. There are even online matches where you pit your fellowship against those of other players. It seems like a fun game that's worth checking out.
What makes it even better is that it is free to download on Android and iOS (sorry folks, no Windows Phone version). Although, the game does contain in-app purchases that range from $4.99 to $99.99.
Check out the trailer below.