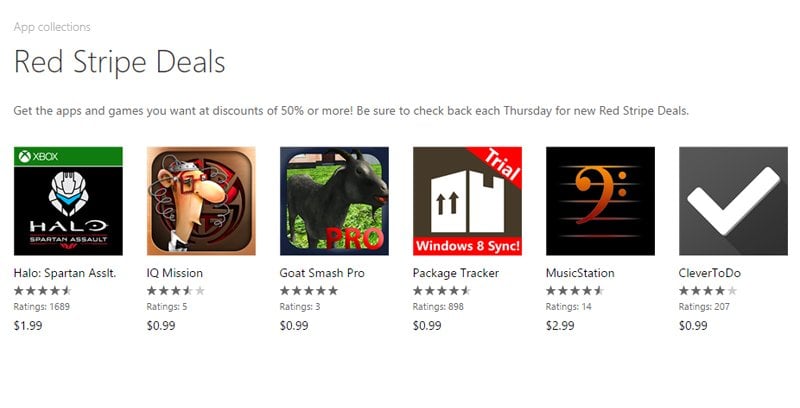 This week's Red Stripe Deals on Windows Phone Store include the critically acclaimed Halo: Spartan Assault along with 5 other titles. Here's the complete list.
Halo: Spartan Assault brings the excitement of Halo combat to touch-based devices for the very first time. Battle your way through 30 action-packed missions against the Covenant as you explore the origin of the Spartan Ops program and Halo 4's Spartan Commander, Sarah Palmer.
*** TOP 1 *** in more than 50 countries in the Board and Puzzle Games category on the App Store! OVER 1,500,000 PLAYERS WORLDWIDE!
Hit everything you can, unlock all secret achievements and do cool tricks with this goat simulator kind of game!
Can you get the highest score? Beat your friends and show of your goat simulating skills! Crash the barrels to get a higher score.
Package Tracker is a tool for tracking the delivery status of packages on your Windows 8 and Windows Phone devices and supports over 60 carriers. Package Tracker saves you to visit the website of the respective carrier again and again and notifies you automatically with live tile updates (push notifications) when the status of a package has changed.
MusicStation is a tool designed to find scales and chords through four search modes: By notes, by type, by root and by guitar position. It features no less than 63 scale types and 59 chord types!
CleverToDo is a task management application. Manage your tasks efficiently. This To Do application is based on "Get Things Done" methodology created by David Allen. Slick and intuitive design allows you to focus on tasks. Simplify your daily life, reduce stress and stay productive.