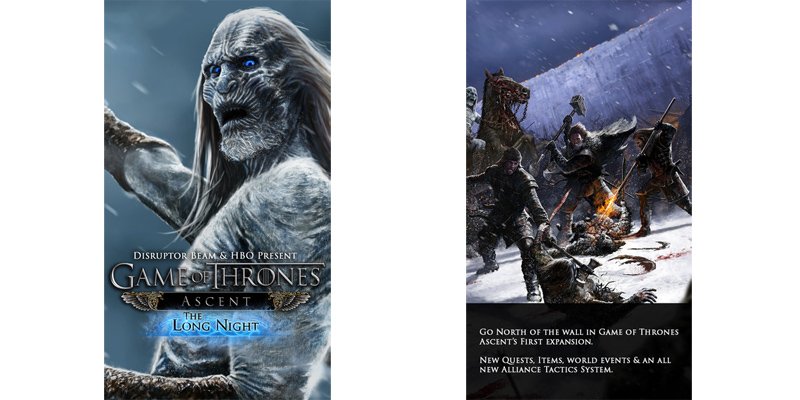 While Tolkien fans get tons of games to play across different platforms, the choices for Game of Thrones (or "A Song of Ice and Fire" in case you've read George R. R. Martin's work) loyalists are limited. Luckily, we have a few options available though, Game of Thrones Ascent being one of them. Developed by Kongregate, Game of Thrones Ascent is a strategic role-playing game that is based on the books and the popular Game of Thrones TV series.
Now, the game has been given its first expansion pack named 'The Long Night'. The update focuses around the north and the wall where you'll need to fend of hordes of white walkers and stop a new plague brought down by wights and wildlings into the Gift from spreading further. The game also features new Tactics and Quartermaster modes. Tactics include Alliance and Member Tactics, with the former affecting your team and the latter your own character.
That's the second present for Martin fans in the recent past, with Random House having released Dothraki Companion App a few days ago. Grab Game of Thrones Ascent from the store links below.
Game of Thrones Ascent – Play Store
Game of Thrones Ascent – Apple App Store
Changelog:
— Added functionality for Alliance and Member Tactics feature!
— Use Tactics to add bonuses that can affect your character or your entire Alliance!
— Added a variety of Alliance and Member Tactics to apply.
— Added the Quartermaster Feature!
— Get a free spin every day for Prestige and other prizes!
— Complete other actions to gain one extra spin per day!
— Started the Long Night Cycle!
— Added new quests, items, adventures and more!
— Resolved issue where Prologue Complete screen had no background image.
— Resolved issue where Friends box on Fealty screen had no background image.