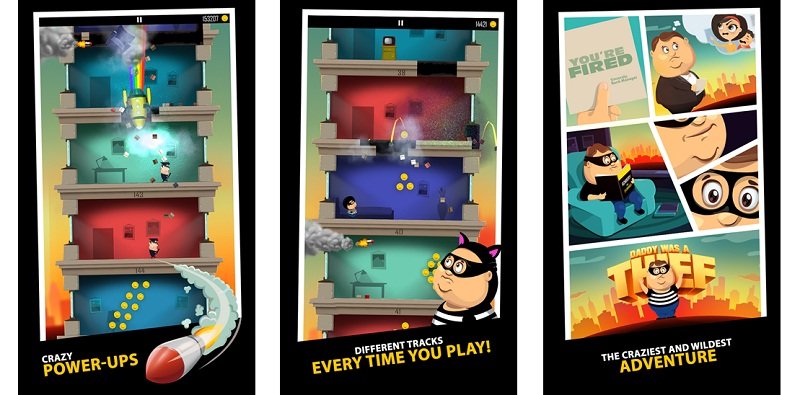 It's no secret that Windows Phone users do not always get to enjoy the latest and popular apps on their platform that Android and iOS users are engaged in. While Microsoft has addressed the availability issue somewhat in the past year or so, these apps often arrive way after they've landed on Android or iOS. The same happened with the immensely popular game Daddy Was A Thief which has finally landed on Windows Phone, almost an year after it did on Android and iOS. Nonetheless, it's good news for the users of the platform who have another popular title to play now.
Features:
Smashable obstacles: walls, furnitures and more! Gain as much destructions as you can! Crash through walls, floors and watch the pieces fly all over!
Playable thieves and crazy power-ups to unlock
Different every time you play!
Just one finger control! (swipe up and down) Quick pick-up-and-play
Many achievements to earn
It would be appropriate to call Daddy Was A Thief an endless faller since you're moving your way down instead of going forward. The game is a universal app and can be enjoyed on both Windows based tablet or PC and Windows Phone. That's important because unlike the Android version, it costs $1.99 on Microsoft's platforms. The price is same as on the App Store, so we guess it's kinda fair, given the huge user base for Android making it possible for developers to make titles free and earn through IAPs instead. Fortunately, there's a free trial available too. Also, Daddy Was A Thief is also compatible with Windows Phone devices having only 512MB RAM. Grab it from the store links below.
Daddy Was A Thief – Windows Phone Store