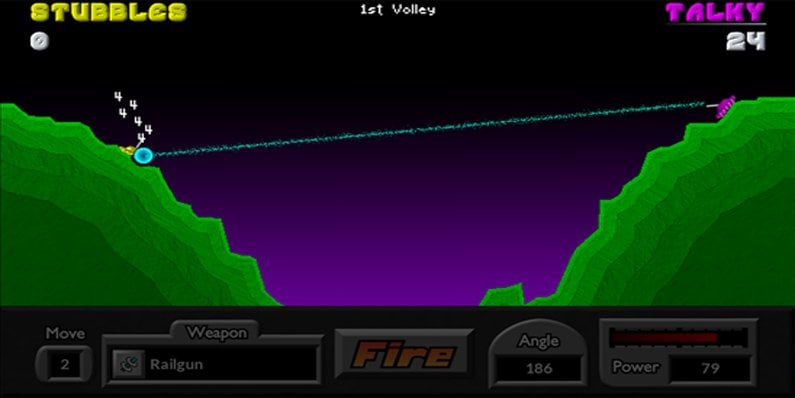 Popular classic title Pocket Tanks has landed on the Windows Phone Store. Developed by Michael P. Welch of BlitWise Productions, Pocket Tanks was first released for the PC way back in 2001, and more recently on Android and iOS.
Features:
– Large scrolling battlefields
– WiFi real-time matches on a local network
– Online, turn based play. Battle your friends around the world at your own pace.
Pocket Tanks has a simple aim to wreak havoc on you opponent's tank that's on the other side of the hill. Not only does the ammunition damage tanks, but also changes the topography of the terrain significantly. After each round of fire, player is awarded points based on the damage sustained by enemy tank. At the end of 10 turns, the player with the highest points wins.
The game is available as a free download with 35 weapons, with support for Wi-Fi real time matches on a local network and online turn-based matches. The deluxe version on the other hand comes with a $4.99 price tag and offers the following extra features:
– 105 brand new weapons (140 total with all free packs)
– Jump Jets for moving your tank around
– Bouncy Dirt for creating reflective terrain
– Digger for tunneling your tank underground
– Support for weapon expansion packs, both paid and FREE!
Grab Pocket Tanks from the Windows Phone Store at the link below.