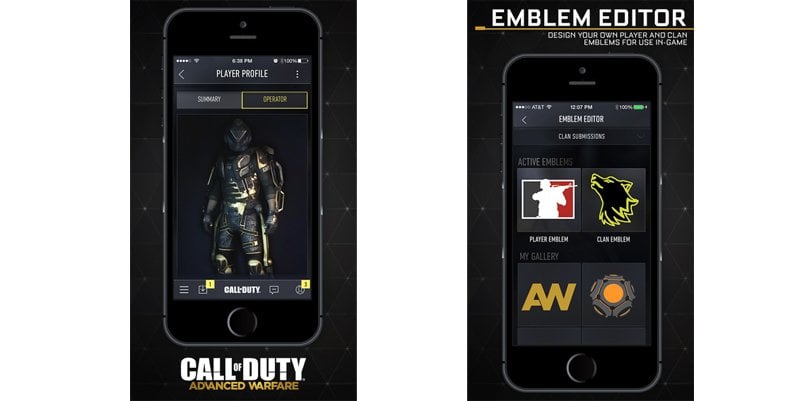 Just ahead of the global release of Call of Duty Advanced Warfare on major consoles and PC, Activision has launched the companion app for the game on major mobile platforms. The Call of Duty®: Advanced Warfare Companion app is now available to download on iOS, Android, Windows Phone and Windows. To make things clear, this isn't the mobile version of the game, but is a companion app that lets you remain connected to the world of COD when you're away from your consoles and manage your in-game clan and create new clan emblems. It also allows you to be a part of clan chats, get access to in-game items, view profiles and do more.
Features:
"Clan Wars
Clan Wars give you and your friends the opportunity to join up and compete against other clans of similar size and skill for control of positions on the in-app Clan War map.
By participating in Clan Wars, you and your Clan can win in-game exclusive loot. This loot is used to customize your Operator in Advanced Warfare Multiplayer and is only available in Clan Wars. Clan War loot is a signal to your opponent in any match that you and your clan are a cut above.
The War Room
The War Room is where you and your Clanmates manage your overall clan experience. You can see active and upcoming Clan Wars, your Clan War history, and your clan's top contributors.
Emblem Editor
In the stand-alone game, Call of Duty®: Advanced Warfare, your emblem is a unique representation of your multiplayer Operator or your Clan. The Call of Duty®: Advanced Warfare Companion has a full emblem editor that can be used to create a custom Clan emblem or Player emblem that is synced to the emblem editor in-game.
Additional Features
Clan chat, Clan Profile, Player Profiles, and more."
The app is free to download, but would hold no meaning if you don't have the original game that launches on the Xbox One, PlayStation 4 and PC tomorrow.
The Call of Duty®: Advanced Warfare Companion App: iOS | Android | Windows Phone | Windows