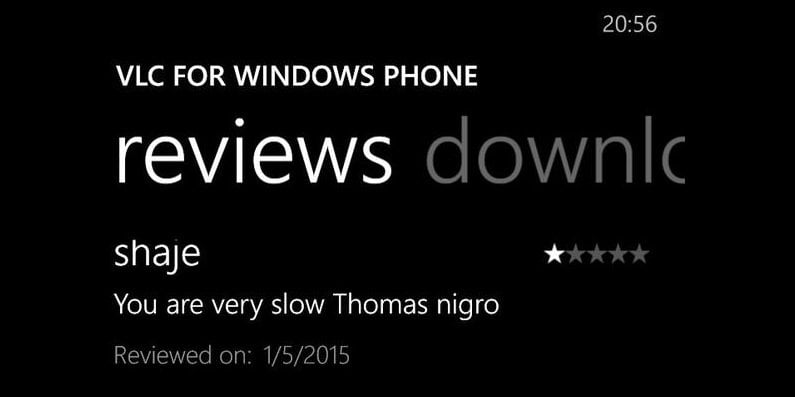 Things between VideoLAN (the maker of VLC) and the Windows Phone community got turned for the ugly when VideoLAN took it to Twitter to share their displeasure over one of the reviews for VLC on the Windows Phone Store.
Dear WP community, If you want applications, maybe you should stop acting like this: "@ThomasNigro I am very slow. pic.twitter.com/JY0OYXJTKy"

— VideoLAN (@videolan) January 5, 2015
As it turns out, the review in question here had targeted the app developer specifically, calling him slow. This came after VLC app was made public last week and the beta version of the app it seems, wasn't ready to be launched in the store even as a beta. The app was crashing frequently and wasn't up to the mark. Naturally, users vented their anger through the review section.
While VideoLAN isn't wrong in being aghast against the reaction, they should remember that this isn't the sentiment of the entire community, but only of a select few individuals. Also, unlike other apps, the team behind VLC had raised funds to develop a Widows Phone app back in two years, so "slow" maybe not, but "late", definitely.
The good news is that the app has been updated since then and you can expect at least some improvements.