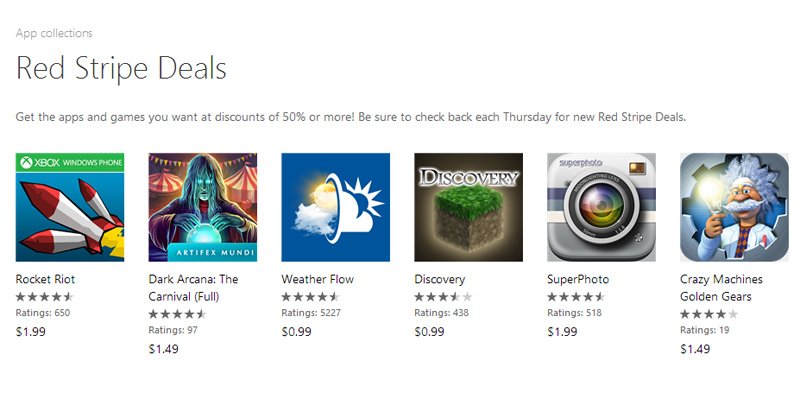 Like every Thursday, we have six new quality apps on Windows Phone, that have been discounted 50 percent or more as a part of Microsoft's Red Stripe Deals. Here's what's discounted this week.
In this highly stylized eight-bit era style game, blast your way through the environment against the strangest enemies you will ever encounter. Navigate through a completely destructible environment, uncover special power-ups, or even burrow into different areas of the map.
Investigate two worlds: the one you know and an alternate plane existing behind the Hall of Mirrors. Discover the secret of an ancient being known as the Evil One. Reveal the story of star-crossed lovers and stop the Evil One from breaking its magical chains and invading our world.
The weather experience tailored for Windows Phone with amazing live tiles and awesome lock screen support.
In 'Discovery' you can explore a giant world that is made of blocks and modify it with your own creations. Construct your house, build villages, cities, monumental constructions or dig deep under the earth.
Tons of amazing effects for your photos!Unique, outstanding effects you'll love. You'll have endless fun and turn your photos into amazing art pieces with just one click!
The award winning Crazy Machines is now available at the tap of your finger, made especially for Windows 8! In this "Rube Goldberg" style puzzle game, experiment and build your wacky contraptions with physics action like never before on the mobile platform! Dazzling visuals of explosives, fire, and true to life physics behavior when you put the experiment into motion!
You can also find the entire collection here.