Review: The Best Speakers, Cases & Accessories For Your iPhone 5s / 5 / 5C by AskMen
Cases
Spigen SGP Case Saturn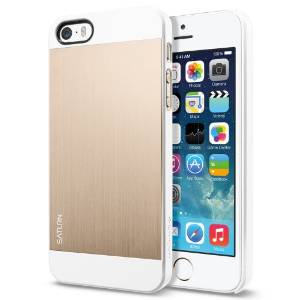 While some people are afraid to tarnish the natural beauty of their iPhones by covering them with a clunky case, this case from Spigen is a nifty solution, mimicking the existing iPhone back using diamond-cut aluminum. The cases come in champagne, silver and space gray versions — like the iPhone 5s — as well as red/black.
OtterBox Commuter Series Case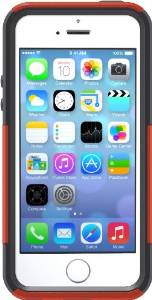 If your first concern is safety, though, OtterBox is the company for you. Their Commuter case is a protective cocoon for your iPhone, with a thin plastic sheet protecting your screen and a two-layer protective backing that envelops the phone in silicone and polycarbonate to offer a soft cushion and a hard shell against all the little bumps and scrapes your phone encounters. 
iPhone 5s Leather Case


If you want your phone to stay stylish while staying scratch-free, consider Apple's own leather cases. While a little pricey for such a simple case, they'll offer you the satisfaction of touching real leather every time you handle your phone. 
Grove WoodPrint Case
Grove's got a host of sleek wooden cases to give your phone an old-school feel, but their new WoodPrint case will have your iPhone 5s covered in a unique design, allowing you to upload up to three photos that they'll imprint onto your case.
BodyGuardz Privacy ScreenGuardz

If it's not your phone you want to protect, but what's on the screen, consider the BodyGuardz Privacy ScreenGuardz. Offering you protection from spying eyes while allowing you to view your Twitter feed, this plastic film will also protect your screen from scratches.
Tethering
Apple TV
The Apple TV adds a whole new dimension of power to your iPhone by allowing you to stream games and video content directly to your television, turning that four-inch screen into a giant panorama of Candy Crush and allowing you to relive your favorite concerts through the video you took.

Fitbit Flex Wireless Activity + Sleep Wristband
If you want to focus more on the active part of your life, or if the UP's price is just a tad steep for you, the Fitbit Flex offers a lot of the same functionality, with a free app so you can track your stats on your iPhone. On top of that, the Flex's silent wake function will get you going in the morning without waking up whoever's sleeping next to you — pretty handy. 
Sony QX100 Camera

It'll set your wallet back a bit, but the QX100 is a DSLR-quality camera lens that attaches to your phone and syncs with it wirelessly via a free app. If you're a photographer not satisfied with the new iPhone camera, this means the end of having to carry around both your phone and a full, bulky camera.
Speakers
DX Silicone Stand Amplifier
This little rubber gadget harnesses the power of sound vibrations, using an egg-shaped phone stand to add some low-tech but still audible whoomp to the jams you bump from your iPhone. 



Jawbone JAMBOX Wireless Bluetooth Speaker
The JAMBOX is a great buy if you want a reasonably priced speaker for your phone and laptop that's got wireless functionality and that you can easily move from room to room — or even carry around in your bag if you need. It's small, but still brings the volume, while its rubber-wrapped steel frame is both sturdy and hard to scratch.
Bose SoundLink Bluetooth Mobile Speaker II

If you like the idea of a portable wireless speaker but want to move up a little in quality, the Bose Mobile Speaker II, which is about the size of a hefty hardcover book, is a great bet. 
Bose SoundDock Series III Digital Music System
Or, if you want something a little more sizable, the SoundDock Series III, with its Lightning connector, will pair up perfectly with an iPhone 5 or 5s and allow you to absolutely blast your favorite tunes.

nbsp;
Bowers & Wilkins Zeppelin Air Dock
This sound miracle from Bowers & Wilkins is the nicest-looking high-priced dock/speaker combo you'll find out there. Its cocoon-like exterior conceals five high-powered speakers capable of dealing with the bassiest lows and the trebliest highs, and it can charge your phone or sync with it wirelessly.

Accessories
Lightning to USB Adapter
If you're one of those people who's always losing things like adapter cables, it might not hurt to stock up on a few extra ones — just in case. 
JayBird BlueBuds X Sport Bluetooth Headphones

These sleek black in-ear headphones use Bluetooth to offer nearly a nearly wireless headphone experience. With the one wire connecting the buds featuring a mic/remote, the BlueBuds allow you to make calls, play and pause your music, all without you — or your headphones — touching your iPhone.
Lightning to 30-Pin Adapter

Need to pair an old iPhone or iPod cable you've got lying around with the new iPhone 5 or 5s? Be frustrated no more! This adapter has you covered. 
COD ACTIVE Sport Armband Case
 
If your iPhone is going to play a big role in your workout routine — like playing "Eye of the Tiger" on repeat — this neoprene armband will keep your phone close at hand, while still keeping your hands, well, free. 
Goldie for iPhone

If you've got a Lightning to USB Adapter already but are annoyed by the cable that's now dangling out of your wall, the Goldie allows for a quick and easy fix — it'll keep your cord tidy, doubles as a phone stand while it's charging and slips in your pocket for easy transportation.