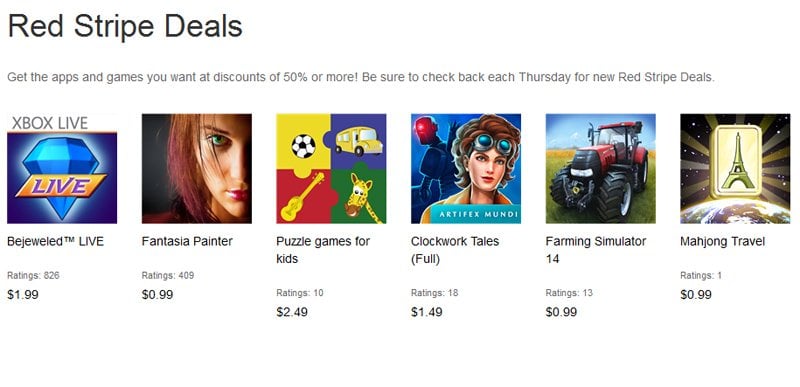 Microsoft's weekly discount on certain apps called Red Stripe Deals is a nice way for Windows Phone users to grab quality apps on discounted prices. Every week six new apps are selected from games and other categories and get discounted by 50 percent or more. Here are this week's Red Stripe Deals:
Swap, move and match multiple gems for dazzling, high-carat fun. Show off your Bejeweled® prowess by earning special Xbox LIVE achievements and climb up global Xbox LIVE leaderboards. Soar to gem-matching heights in Classic mode, race the clock in Action or relax and unwind with Endless play.
Create amazingly cool photo edits and paintings easily. Fantasia has 32 unique brushes (e.g. Fur, Makeup, paint) that adapt to your painting style, speed, direction and nearby colors to make even simple strokes look professional.
Powerful effects, like Mold and Clone, help you enlarge muscles, swap faces, body shape, and more.
This app delivers 5 amazing games that helps young kids learn about various subjects!
1) WORLD MUSIC – Arrange music instruments and learn their names and sounds
2) JUNGLE SAFARI – Learn animal names and their sounds
3) THINGS THAT GO !- Learn a variety of vehicles and the sound they make
4) WORLD OF SPORTS- Learn about sports from around the globe
Clockwork Tales: Of Glass and Ink is an adventure game in the steampunk genre. It is a detective drama featuring action elements such espionage, monster battles and even hang-gliding!
Start your agricultural career in Farming Simulator 14 on mobile and tablet! Take control of your farm and its fields to fulfil your harvesting dreams. As well as a refined look and feel, Farming Simulator 14 gives you double the number of farm machines to control, all authentically modelled on equipment from real agricultural manufacturers, including Case IH, Deutz-Fahr, Lamborghini, Kuhn, Amazone and Krone.
Mahjong Travel brings you the classic mahjong-solitaire experience with a bunch of new surprises. If you like discovering beautiful places around the world, this game is made for you!
You can also check the entire collection here.