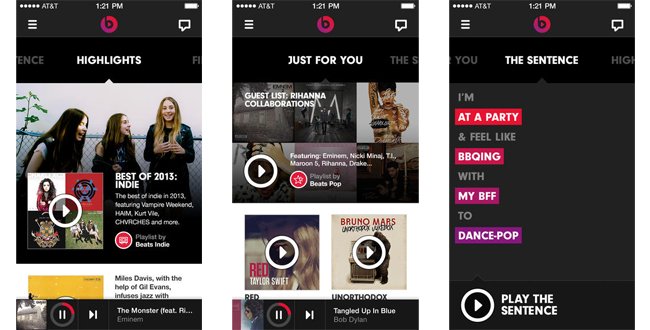 As promised, Beats has released version 2.0 of the Beats Music app in the Apple App Store. The update makes the app compatible with iPad and iPad mini along with iPhone and iPod.
The iPad version of the app isn't simply a stretched out version of the app and makes use of the extra real estate. It retains all the unique features of the iPhone version, including Just for You, the Sentence,  My Library, and an offline mode. The app can switch to portrait and landscape mode depending on the orientation. It also allows for in-app subscription that was introduced in the last update earlier this month, that seemed to have helped the app's popularity on the store. Here's the changelog for version 2.0:
● A stylish and sophisticated interface designed specifically for the iPad's larger screen
● All your favorite features including Just for You, the Sentence, Find It, My Library and Offline Mode
● Dedicated support for both landscape and portrait modes
● In-app subscription and account management via your iTunes account
● Find Your Friends — adds the ability to find and follow your Twitter friends on Beats Music
With an iPad version, Beats would be hoping to steal some more customers from competitors like Rdio and Spotify. You can download the app for free from here, but it requires a $9.99 per month subscription to stream your favorite tracks.