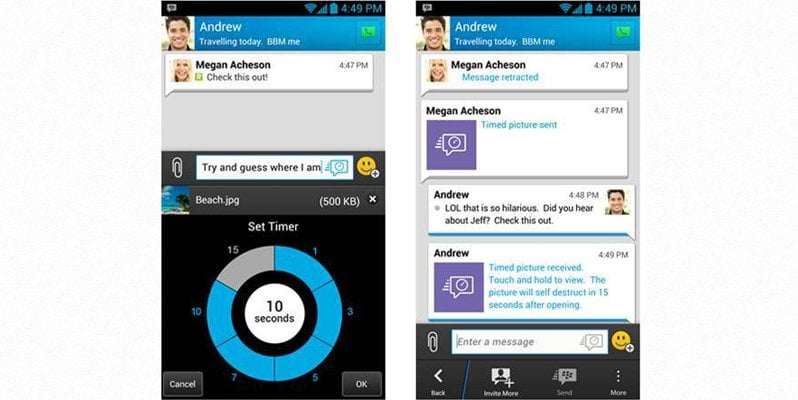 With all the recent leak scandals on iCloud and more recently, Snapchat, you'd obviously want your conversations to reach only their intended recipients. BlackBerry, which is still among the best when it comes to providing security to your data has jumped to the scene and announced an update for BBM on Android, iOS and BB10 that makes the messenger even more secure.
First of all, the new update for the BlackBerry Messenger introduces timed messages. It allows you to set a timer on your messages allowing them to be seen for only a set period of time once opened. Just tap on a message before sending it and it should be set with a trigger. Once the recipient takes his finger off the screen or the time runs out, the message gets deleted. The best part is that if the person receiving the message tries to act smart with capturing a screenshot, the sender is notified of his mischief.
BBM also gives users the option to retract sent messages. Users can recall sent text messages (no images) in one-to-one conversations before these messages get in the wrong hands. This can be handy in instances like giving someone your credit card details for a one time purchase and you not wanting that information to stay on the recipient's phone forever.
BBM 2.5 will be rolling out for iOS, Android and BB10 soon.
[Source: BlackBerry]