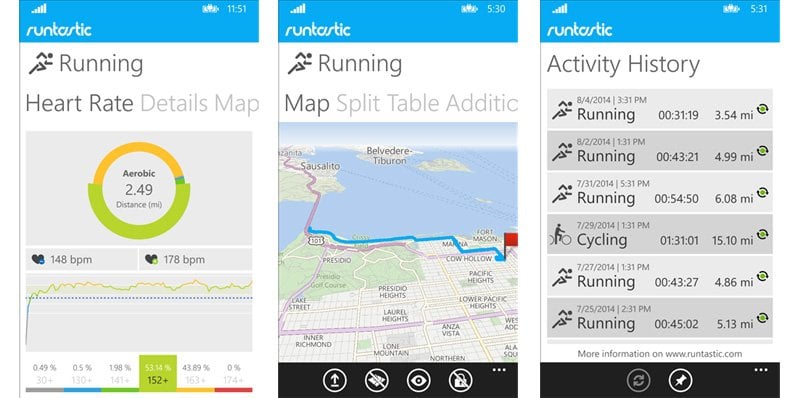 One of the most popular fitness apps across platforms, Runstastic Pro has gone free on the Windows Phone Store for a limited  period of time. Usually, the app costs $4.99 on the store and you should probably grab it while the offer is still in place.
While it hasn't been updated for a while, it still has plenty to offer for the users.
– Track activities & view your routes utilizing GPS: Records duration, distance, calories burned, speed, elevation change and more stats
– Manual entry of workouts: Add treadmill, strength training & other indoor workouts
– Runtastic Routes: Flag one of thousands of routes on Runtastic.com and sync it automatically with your smartphone
– Share routes via NFC from phone to phone
– LIVE Tracking: Show family & friends your position in real time when out for a run or ride
– LIVE Cheering: Get cheered on by friends for additional motivation during your LIVE activities & up the fun factor
– Music integration & Voice Coach (DE, EN, FR, ES, IT, JP) for top motivation and encouragement
– Heart Rate Inte. gration: Track your HR with the Runtastic Heart Rate Monitor (supports Bluetooth® Smart)
– Heart Rate Zones: Work out in your ideal heart rate zone (e.g. fat burning zone)
– Interval training: Get faster with effective, customizable interval training
– Additional info: Record mood, temperature, surface details & personal notes post-activity
– Training history: View activity details within your Runtastic running app or on Runtastic.com
– Split table: Distance information (elevation change, time, pace per kilometer)
– Live Tile: Monthly statistics & transparent Live Tile on your start screen
– Display your routes (Nokia Maps)
– Hydration feature: Find out how much liquid you lost during an activity
– Bird View: Check out maps from bird's eye perspective
– Upload activities to Runtastic.com: Get detailed analysis and statistics, as well as a complete overview of your performance and progress
– Social network sharing: Post your activities on Facebook, Twitter or on Runtastic.com
Grab the app from the Windows Phone Store below.