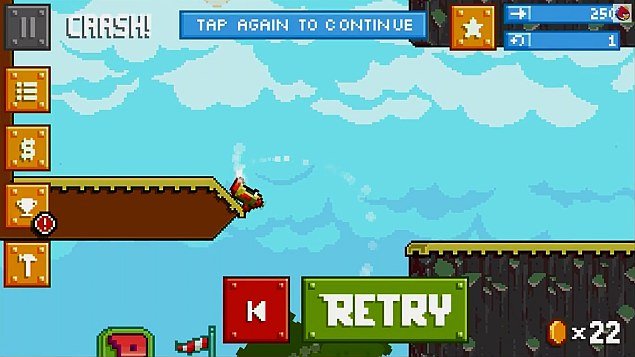 If you're missing Flappy Bird on your iOS device, Rovio has a cure for you. The company has launched its own 8-bit game on iOS called Retry. It's not just another shameless clone of the immensely popular Flappy Bird, but borrows the idea. Make an immensely difficult game that frustrates the player to the point that they can't let go of it.
Retry puts you in control of an airplane that you're supposed to loop through obstacles and different terrains and landscapes, collecting coins at the same time. You ultimate aim is to land the plane from airport to airport. Crash and you'll need to begin from the start. The 8-bit game is as challenging as the developer claims it to be. The visuals remind of the good old SNES days and will only make you feel nostalgic. Unlike the previous games from Rovio, the game doesn't share anything with Angry Birds franchise and has been created by Rovio's new arm called LVL 11.
As has been the case with other Rovio games, the app is free to download, but comes with a lot of in-app purchases. You'll need to shell out real cash to unlock more airports in the game.
Retry has been soft launched on iOS and is available in Canada, Finland, and Poland for now. A wider availability in other regions and platforms is expected soon. You can grab Retry on the App Store here.