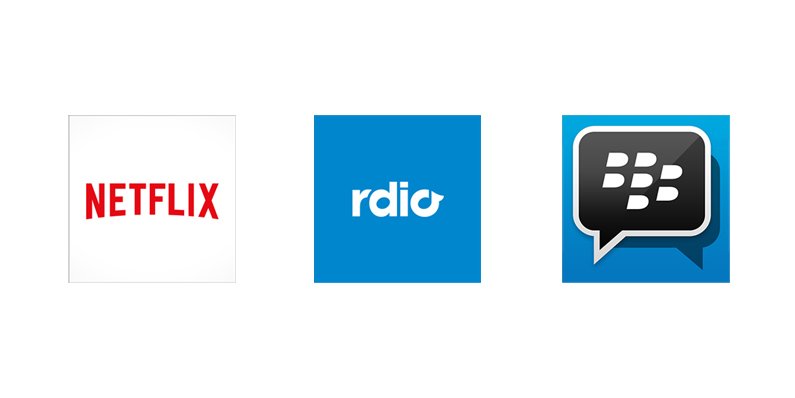 After the launch of some high profile games on Windows Phone, the developers are also spreading love to existing apps by pushing new updates. The three high profile apps that just got updated recently include Rdio, Netfli and BBM. Let's take a look at what update for each of them brings to the table.
Rdio – Although the Rdio app on Windows Phone was only updated recently, the last time it received a major update was in 2013 before today's update. The latest version of the app makes it more in line with the Android and iOS versions and brings in a host of changes mentioned in the changelog below:
– Home. An evolving mix of music stories, personalized for you.
– Favorites. Find something you love? Favorite anything from albums to artists, songs to stations, and keep them all in one place. All songs and albums from your existing – Collection and playlists you've subscribed to now live here.
– Browse. Stations can now be found here, from genre stations to all-new curated stations for any mood.
– Trending. What's most popular right now, combining Heavy Rotation and Top Charts.
Netflix – Netflix has also received a major update again, taking the app to version 4.0. The update brings Cortana integration to the app and many other features enjoyed by users on Android and iOS. Again, here's the changelog for version 4.0.0.13:
– New User experience
– Profile selection
– Post-play
– Better video quality
– Application tile
– Content pinning
– Cortana search
BBM– It seems like it couldn't be a better day for Windows Phoen users. BBM is another major app to receive an important update. Today's update takes BBM to version 2.0.0.24 The update brings some changes that were introduced on BBM beta only recently, including Timed Messages and Message Retraction. The changelog is mentioned below.
– TIMED MESSAGES: Set how long contacts have access to messages and pictures shared in a chat. See the full description for more information.
– MESSAGE RETRACTION: 'Retract' a message to remove it from your BBM chat. See the full description for more information.
– STICKERS & BBM SHOP: Browse and download stickers in the new BBM Shop to bring more fun to your BBM chats.
– HD PICTURE TRANSFER: It's easier than ever to get a high quality version of the pictures you receive in BBM.