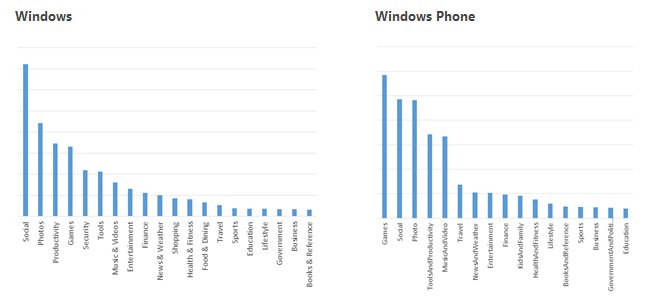 Microsoft has shared some insightful data regarding the trends in the Windows Store and the Windows Phone Store across categories. Not surprisingly, games are the most downloaded apps on both the platforms, accounting for just under 40 percent of all app downloads on the Windows Store and under 35 percent on the Windows Phone Store.
On Windows Phone Store, games are followed by productivity apps with a respectable 20 percent share, while Entertainment apps take the 2nd spot on the Windows Store with close to 10 percent market share. In terms of downloads per apps, games again top on Windows Phone, while the first spot is occupied by Social apps on the Windows Store. Although, Social is a close second on the Windows Phone Store.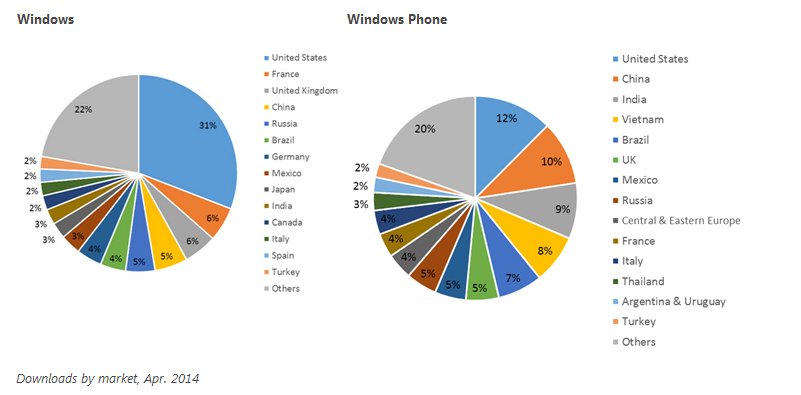 Breakdown by market reveals that the US is the biggest consumer of Windows apps with a staggering 31 percent share, followed by France and the UK at 6 percent each. For Windows Phone Store, Others take the top spot with one fifth of downloads, followed by the US, China and India.
English is the preferred language when it comes to Windows Phone apps, followed by Spanish, while Mandarin takes the second spot for Windows apps.
When it comes to generating revenue, in-app purchases are the biggest source of revenue on Windows Phone apps followed by advertisement revenues. The trend is opposite for Windows Store, where the majority of the revenue comes from advertising.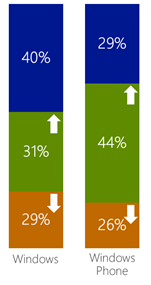 Microsoft has also made some suggestions for the developers and you can check them at the source link below.
[Source]