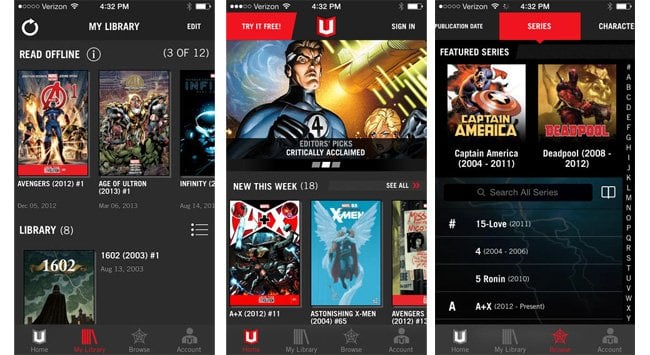 Marvel Unlimited has just received another update on iOS. Previously, Marvel Unlimited was redesigned for iOS 7 and updated with several improvements. This time, the app has been enhanced with a 'completely reinvented, reimagined' reading experience.
In a major upgrade, Marvel has added an adaptive audio feature. It allows you can pick up comics with an accompanying soundtrack that changes in style and mood as you switch from panel to panel.
Starting with five issues of Captain America: The Winter Solder, the company is adding cover-to-cover soundtracks with the hope of upping the drama and improving the reading experience for fans. The adaptive part comes through gauging how fast readers progress through the panels. If a user spend a long time on a particular panel, the music will loop. Skip forward, and it will seamlessly segue to the next part of the score.
The upgraded app is not yet available on Android; Marvel told CNet that it's "so, so close." The wait may be a bit longer here, though, as the new app was coded in native iOS rather than HTML5. You can get the iOS version of the app here.