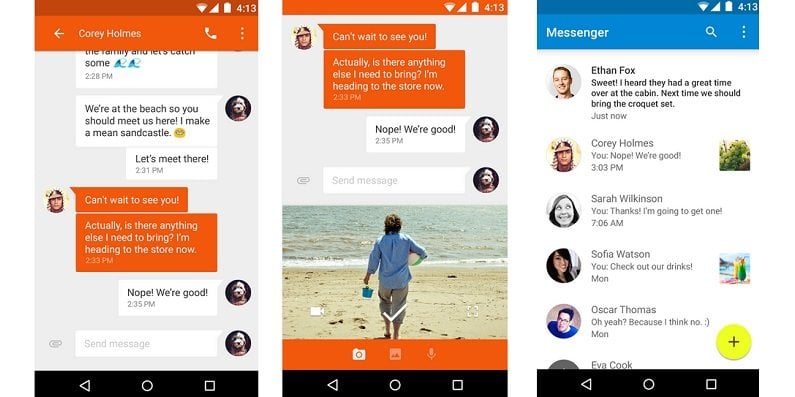 While there are already a dozen or messaging apps on the Play Store, Google believes that there's room for more. The company has launched Messenger app in the Play Store. Messenger is the default messaging app on Android Lollipop (and is also available for other versions) and allows you to send and receive SMS and MMS from any other phone. We're still confused how that makes it different from the Hangouts app that pretty much does the same, but it's not being offered as a replacement it seems and the former champ is still available.
Features:
• Faster sharing: Select or take pictures and videos directly from the app and share easily. You can even send audio messages to your contacts.
• Easy search: Search through contacts and conversation threads to find exactly what you are looking for.
• Purposeful design: New, fluid, material design that is intuitive and delightful.
• More control: Ability to block SMS senders. No interruptions when you don't want them!
• More features: audio messages, emoji support, colored text threads, message archiving and more.
Messenger has been crafted in Material Design of course and works on devices with Android 4.1 and above. It also allows your to send audio messages. It also allows you to capture pictures and videos directly from the app and send them to your friends and family.
Messenger is free to download and can be picked from the Play Store here.