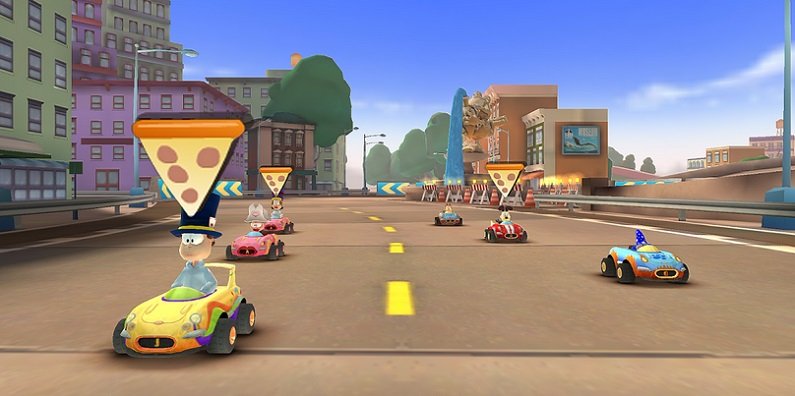 Kart games are such a crowd favorite that these are often used by different franchises to make quick cash. Now, you'll be able to race around tracks on your phone and tablets as Garfield and his friends in Garfield Kart Fast & Furry that has been released by Microids.
Features:
• Confront Garfield and his friends in over 80 wacky CHALLENGES
• Several GAME MODES and various challenges (Time trials, duels, races, picking up as many coins as possible, finding puzzle pieces, throwing pies at Jon, and more)
• ONLINE TIMES – Compare your best times with other players in Time Trials mode
• Solo and multiplayer CHAMPIONSHIP MODE
• CUSTOMIZE your characters with several hats and accessories
• 8 CHARACTERS – Garfield, Odie, Jon, Nermal, Arlene, Liz, Harry, and Squeak.
• 2 TYPES OF CONTROLS – steer the kart with a gyroscope or with buttons
• Compare scores with your Facebook friends and follow their progress
The game allows you to race around as Garfield, Jon, Liz, Nermal and Odie. The game also  includes the original Garfield Kart game that was released  last year. As your steer around your way, you can use power ups like the lasagna boosters, bouncy springs, explosive diamonds and more.
Garfield Kart fast & Fury is free to download but comes with ads and in-app purchases. Pick it up on Android and iOS from the store links below.