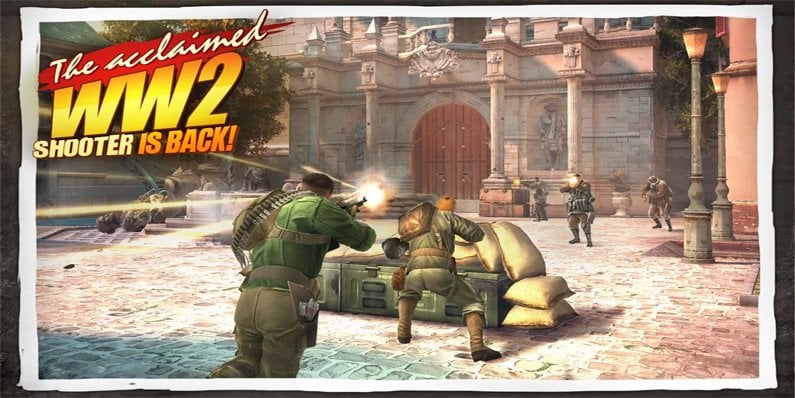 Gameloft has released a new game in the Brothers of Arms series of World War II shooters on Android and iOS. The game comes an year and a half after it was first announced and is the sequel to 2011's Brothers of Arms 2: Global Front.
Features:
EXPERIENCE UNIQUE SQUAD-BASED COMBAT
> Use your brothers to gain a tactical advantage!
> Employ their diverse abilities: Air Strike, Molotov, Rocket Blast, Mortar Fire and many more.
> Unlock new allies. Upgrade them into seasoned soldiers: damage output, ability cooldown, HP pool, AoE ability damage and more!
DIVE INTO EXHILARATING ACTION GAMEPLAY
> Smooth cover-based 3rd-person action with free movement.
> Various types of missions such as Assault, Sniper, Siege and Stealth.
> Impressive killcam zooms.
PICK YOUR FAVORITE WEAPON
> Unlock new weapons and turn them into the ultimate arsenal with fire rate, recoil, reload speed or clip-size upgrades!
> Discover the game-changing power of experimental weapons!
> Wreak havoc with their cool abilities: Triple or Infinite Bullets, Electric Discharges and more!
ENJOY EYE-CATCHING VISUAL EFFECTS
> Stunning indoor and outdoor settings.
> Weather and time-of-day variations.
> Console-like graphics for a AAA gaming experience.
WIN AWESOME REWARDS IN SPECIAL EVENTS
> Ladder challenge: missions gradually increase in difficulty for better prizes.
> Limited-time events with exclusive drops.
The game is a third person shooter featuring squad based combat and takes place during the events of World War II. The game features sequences both indoors and outdoors and has graphics that come close to the quality of consoles. It is available for free, but like other Gameloft titles, features in-app purchases.
Gameloft will shortly be following with a Windows Phone version of the game. Grab it from the links below.
Brothers in Arms 3: Sons of War – Android
Brothers in Arms 3: Sons of War – iOS
Update: The game is also live in the Windows Phone Store and is available as a free download.