The EC Technology power bank packs a punch combining aesthetics, functionality, and resourcefulness.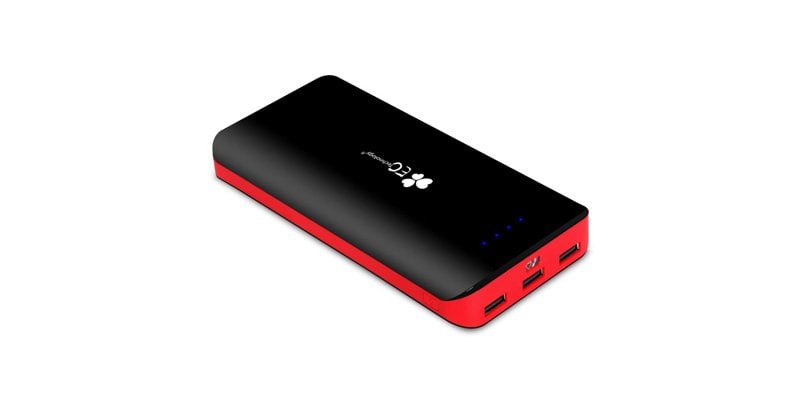 Looks
The power bank comes in attractive colourful casings (red and black, red and orange, blue and white, and white and grey). The EC Tech 22400 weighs just 450 g (approx.) and comes in a portable size of 16 x 8 x 2.2 cm. The plastic shell protects the power bank from damage. An LED indicator keeps you informed on the charging position and battery level. Additionally, the power bank comes with an LED flashlight that would help you navigate in the dark.
Functionality and Versatility
This power bank is a mammoth battery source. It comes with dual-USB outputs – one rated at 2.1A designed primarily for tablets and the other at 1A for smartphones. The device is compatible with iPhone 6 and 6 Plus, 5S, 5C, 5, 4S, 4, iPad Air and mini, Galaxy S5, S4, S3, Note 4, 3, Nexus, HTC One, and most other phones and tablets. High-speed Dual USB output can charge 2 smart devices simultaneously.
Battery Power
The EC Tech is constructed with A+ lithium-ion battery cells and build-in microchips. This ensures safety. The auto-detect technology correctly charges the device protecting it from over-charge, over-discharge, over-voltage and over-current.
When fully charged, the 22400 can restock a smartphone completely…over and over.
According to a few users, it took more than 3 days of charging a variety of different devices, to deplete the power reserves of the EC Tech.
This power unit has the supremacy to replace several AC and 12V chargers. It's affordably priced, is safe to use, provides unparalleled power and looks great. The EC Power Pack is definitely one of the top items on your must have list.