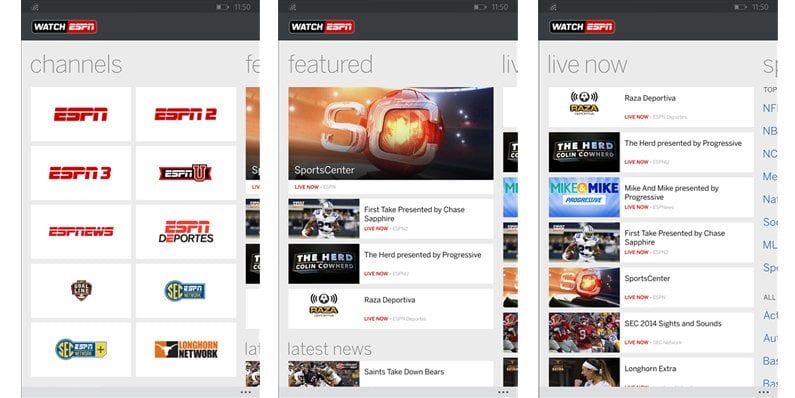 It seems like before the year is out, Windows Phone will continue its successful run at adding more high profile apps that started in the month of December. The latest app to be added to the Windows Phone Store is the WatchESPN app. The app was launched on Windows Store sometime back and has been released on Windows Phone ahead of coverage of the NCAA college football playoffs on New Year's Day.
Access to live streaming video from ESPN, ESPN2, ESPN3, ESPNU, SEC Network, SEC Network Plus, ESPNews ESPN Deportes and Longhorn Network is determined by your TV provider. The providers below offer access to WatchESPN live video:
– AT&T U-verse
– Bright House Networks
– Charter
– Comcast XFINITY
– Cox
– DISH
– Google Fiber
– Midcontinent Communications
– Optimum
– Time Warner Cable
– Verizon FiOS TV
Please check back regularly as new TV providers are added. Access to on-demand highlights and news is available to everyone regardless of provider.
The WatchESPN app offers live streaming access to thousands of games and events on the ESPN networks, including:
– NBA Regular Season and Playoffs
– Major League Baseball
– The Masters, U.S. Open and The Open Championship
– College Football and Basketball
– All four Grand Slam tennis events
Get up-to-the-minute news, highlights and analysis with live streaming of your favorite ESPN shows, including:
– SportsCenter
– PTI
– College GameDay
– Mike & Mike
– SportsNation
– Baseball Tonight
Depending on your cable operator you will be able to watch any of the above mentioned channels on your Windows Phone live. The app requires a paid subscription to participating cable, IPTV and satellite television providers. Grab it from the Windows Phone Store at the link below.