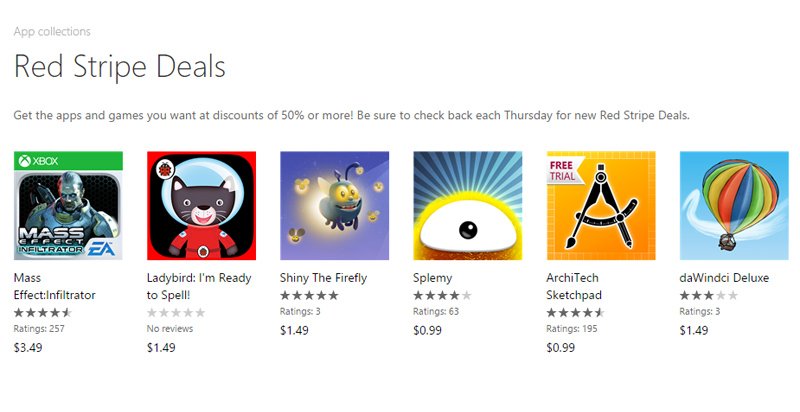 Here's the list of this week's apps included in the Red Stripe Deals on the Windows Phone Store:
Mass Effect:Infiltrator – $3.49
As Commander Shepard battles Reapers across the galaxy, veteran Cerberus agent Randall Ezno procures aliens for illicit experiments at a secret facility. But when the Director of the facility goes too far – Randall fights back and vows to bring Cerberus down! Can you fight your way off the hostile Cerberus base and deliver their secret research to the Alliance?
Ladybird: I'm Ready to Spell! – $1.49
Have loads of spelling fun with three mini space-themed games, and tailor the app by adding your child's own school spellings. Let's get ready to spell!
This adorable game, set in the middle of a picturesque garden, has you helping Shiny, the cute little firefly, to find his babies. You'll have to fly, run, hide and defend yourself against a legion of enemies. Stubborn mosquitoes, hungry toads, mischievous plants, sneaky wasps, endlessly long centipedes and lots of other little, dangerous garden dwellers are going to get in your way and make your life difficult.
Born form the primordial soup – Splemy sets on a journey to find his creator. Use a familiar slingshot mechanic to guide him through 75 levels of an intense and strange world. You will visit mysterious and atmospheric caves, colorful mushroom forest and eventually a dangerous abandoned factory.
ARCHITECH Sketchpad is the most popular and widely-used professional CAD & graphic application on the Windows Phone Marketplace.
Immerse yourself in daWindci Deluxe, the definitive edition of the Apple Design Award winning daWindci. For the first time on your Windows Phone device.