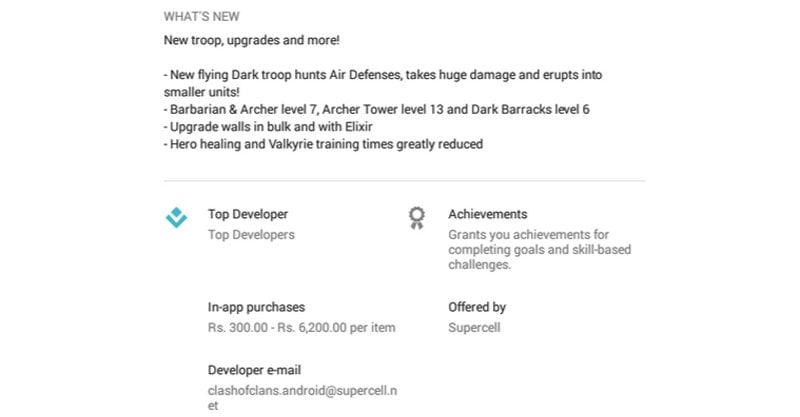 Most of us realize while looking at a quality title being given away for free on mobile that it's going to be riddled with in-app purchases and that;s usually true. However, Google has introduced new rules for developers that requires them to reveal the price range of in-app purchases on the app page. It's still a range and doesn't talk about individual prices, but still gives consumers an idea of what they might expect within the app.
The pricing info can be found in the expanded information section within the app page/tile next to the developer info. For instance, Clash of Clans shows a range of $4.99 – $99.99. For apps with a fixed price for everything (or to purchase the full game without ads) it shows as a fixed price per item. The price can only be seen on Play Store and isn't reflecting on the web version of the Play Store yet.
Although it still doesn't go into the specifics, it's a welcome change from before ,where users discovered their downloads to have been a waste of time and data (not all of download our apps on WiFi) due to exorbitant pricing. At least, this way users will have a clue before hand as to how much will they have to shell out of their pockets. We wish Google has made developers be more specific with these prices, but understandably, that would have made the list rather quite long in some cases.
[via]