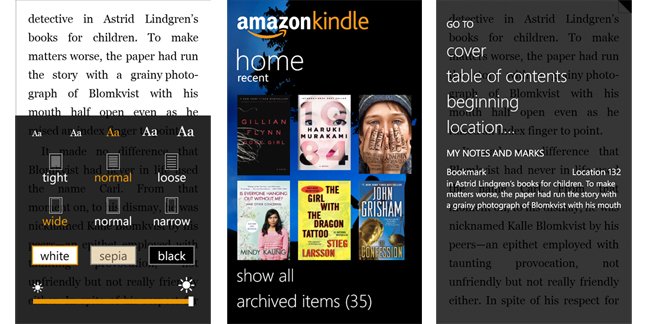 Amazon has brought a minor update to the Amazon Kindle app on the Windows Phone Store. The app has been updated after some time, so it's a welcome update even if a minor one. The e-book reading app that provides access to thousands of free Kindle books is now on version 2.0.0.6. The update doesn't add any new features, but fixes the annoying crash on startup bug and another bug that made the app get stuck on the loading screen.
Still unsure about the app? Here's what it offers:
Buy Once, Read Everywhere: Read anytime you have your Windows Phone 8 with you—just download the Kindle app to start reading eBooks now.
Sync to Furthest Page Read: Amazon Whispersync technology automatically syncs your Kindle books across apps, so you can start reading on your Windows Phone 8, and pick up where you left off on another device with the Kindle app installed.
Personalize Your Reading Experience: Adjust the screen brightness, font size, margin width, and line height.
Read Free Books: Choose from thousands of free Kindle books such as Pride & Prejudice or The Adventures of Sherlock Holmes.
Track Progress: Tap the screen while reading a book to see the progress indicator that shows you how much of the book you've read.
Save Your Favorite Books: Tap while you're reading to pin a book, or press and hold a book in your library to move it to your Archived Items.
You can pick Amazon Kindle on the Windows Phone Store over here for free, or can scan the QR below.